Newport puppy recovering at swallowing 10-inch arrow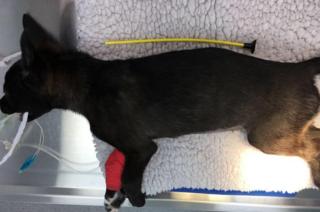 An eight-week-old puppy is lucky to be alive after swallowing a 10-inch arrow.
Lola, a sheepdog cross, required emergency surgery after the toy arrow became wedged in her stomach.
Her owner, Maria Caulfied from Newport, said it was an "absolute miracle" she survived and "shows that she's meant to be" with the family.
She said Lola was playing before she let out a "huge yelp" and became "violently sick".
The family rushed her to the vets and an X-ray showed the arrow spanned almost the entire length of her body.
Mrs Caulfield said the surgery went well and Lola should go on to make a full recovery.