Memorial stone unveiled at RAF Stormy Down in Bridgend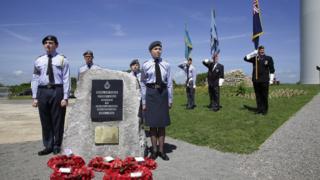 A memorial stone to commemorate the military personnel who trained at a former World War Two aerodrome in Bridgend has been unveiled.
A Lancaster bomber, a Hurricane, Spitfire fighter planes and the Red Arrows took part in a fly-by to mark the occasion at RAF Stormy Down.
Military veterans, local dignitaries and members of the public were among those who attended.
Five of those veterans were cadets who stayed at the camp.
Between 1939 and 1946, Parc Stormy was an RAF aerodrome providing training for 10,000 air and ground crew.
A total of 53 aircrew - from Britain, Canada, New Zealand and Poland - were lost at Stormy Down, 11 of whom are buried at Nottage Cemetery in Porthcawl.
The commemorative event was organised by the RAF together with the Porthcawl Museum and Historical Society, and Cenin Renewables.
Cenin bought Parc Stormy in 2007 and has transformed the derelict site into a cluster of interconnected renewable technologies.
Welsh Secretary Alun Cairns, who attended the event, said: "The brave men and women commemorated today came from all walks of life but were bound together by their immense courage and determination.
"The Second World War is a local story as well as part of our nation's history. Every city, town and village was touched by it: by the soldiers who fought and the people who stayed behind,
"The memorial unveiled today is a fitting tribute to those who battled in the skies and on the ground, and made the ultimate sacrifice for our freedom."