Two eagles shot dead in Ebbw Vale sanctuary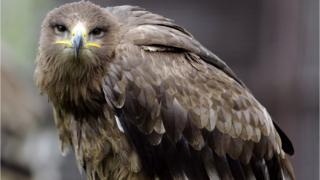 Two eagles have been shot dead at a bird sanctuary in Ebbw Vale, police have said.
The bodies of the Steppe and Tawny eagles were found in their aviary at The Owl Sanctuary when volunteers arrived for work.
Owner Patricia Webb, 74, said the killing of the protected birds was "absolutely mindless".
Gwent Police said the eagles were shot between 18:30 BST on Friday and 16:00 on Saturday.
Ms Webb, who runs the sanctuary with her partner Malcolm Jones, 74, said the eagles were the two largest birds out of 60 kept there.
"One of our volunteers saw them and at first thought they were sunbathing because eagles sometimes do that. But later when they went to feed them they realised they were dead," she said.
"The vet told us the first eagle had been shot twice in the head and the other one had been shot a few times.
"It's absolutely mindless. Someone doesn't have a brain cell at all to do something like this."
Gwent Police is appealing for information following the incident.