Lorry sheds load of chocolate bars near Pontypool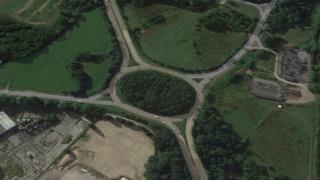 A lorry overturned and shed its load of chocolate bars causing hold-ups during the clean-up near Pontypool.
One lane of the A4042 was shut following the incident at the Rechem Roundabout, at New Inn, at about 04:20 BST.
The lorry driver was taken to the Royal Gwent Hospital with a head injury and a potential broken leg, Gwent Police has said.
The spilled load has now been cleared from the road.
Traffic was affected between Cwmbran and Abergavenny along Usk Road as far as the Horse and Jockey Roundabout, and the A472 to Crumlin Road.