Fine over rundown former Newport nightclub TJ's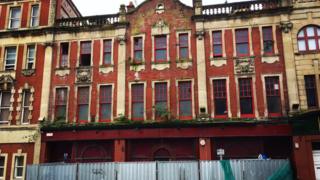 A company which owns a listed building once home to a legendary Newport nightclub has been fined for allowing it to fall into disrepair.
TJ's once attracted bands including Green Day, Manic Street Preachers, Iron Maiden and the Stone Roses, before it closed in 2010.
Newport Magistrates' Court heard it is now vacant and deteriorating.
London-based owners 121 Ventures pleaded not guilty but were convicted and told to pay £53,833.
Newport City Council brought the prosecution against the company, its directors and company secretary after they failed to act when given enforcement notices to improve the building and its land.
The court was told the building, which was very well known in Newport, needed missing and damaged red clay roof tiles replaced, along with broken lead flashing.
Windows in the property were also broken, while vegetation and debris needed to be removed from the surrounding land.
Warrant issued
Magistrates heard the company had failed to carry out remedial works on the building and had shown complete disregard of council notices and court proceedings by their non-attendance at previous hearings.
They also failed to meet with officers on several occasions to discuss the state of the building.
121 Ventures Limited was fined more than £26,000 and ordered to pay the council's costs of £1,493.95.
Omar Saleem Aslam, a director and company secretary, was fined more than £26,000 while another director, Mohammed Iqbal Hussain, failed to appear in court and a warrant was issued for his arrest.
TJ's was formerly owned by John Sicolo, who opened the venue in 1971. Some 5,000 bands played there before he died in 2010.