Cardiff woman's death trying to save dog on M4 'accidental'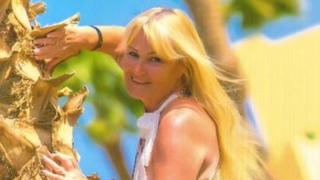 A great-grandmother was killed trying to save her dog when it ran on to a busy motorway from her broken down car in Cardiff, an inquest has heard.
Patricia Connors, 66, dashed into rush-hour traffic on the M4 in a bid to save the runaway terrier, but she was hit by a Transit van.
Mrs Connors had pulled on to the hard shoulder after getting a puncture in her Volkswagen Golf, the inquest heard.
Coroner Phillip Spinney recorded a conclusion of accidental death.
The inquest was told Mrs Connors, from the Rumney area of the city, was "focused only on her dog" when she ran out after the pet.
She reached the dog after it was hit by two cars, but was then hit herself as she tended to the injured animal.
Van driver Thomas Jobson told the court: "All of a sudden I saw the car in front of me swerve to the right-hand side towards the outside lane.
"I could then see there was someone or something directly in front of me, so I immediately applied the brakes and tried to swerve to the right to avoid hitting them.
"But I had nowhere to go - if I swerved to my right I would have caused a pile up."
Mrs Connors' dog was seen jumping from her car by other drivers.
Motorist Sarah Jones said: "I collided with the dog in the inside lane - I could not avoid it.
"Just before the dog was hit by the second car, the lady was on the inside lane as if she was trying to catch the dog.
"She kept going and had her right hand in the air as if she was trying to stop the traffic.
"She wasn't looking at the traffic - she was focused only on the dog."
Paramedics arrived at the scene shortly after 18:15 BST on 7 April but pronounced Mrs Connors dead. The dog also died.
Her cause of death was given as multiple traumatic injuries following a road traffic collision.
The coroner said: "It is difficult to imagine the stress that Mrs Connors must have been feeling as she witnessed her dog go into the carriageway.
"In a heightened state of distress her focus was not on the traffic and her own safety but on recovering her dog."