Cardiff boy, four, contracts 'horrific' flesh-eating bug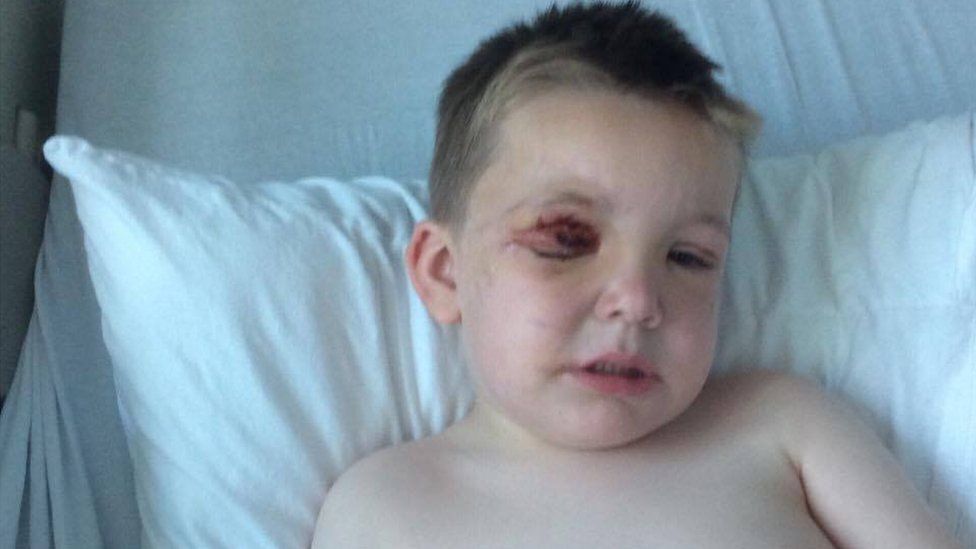 A four-year-old boy who contracted a potentially life-threatening flesh-eating bug is recovering.
Rhys was given butterfly stitches for a cut to his head after falling in the garden of his Cardiff home 10 months ago.
But he suffered a swollen eye and sickness before being placed in isolation where he was treated for the bug necrotising fasciitis.
Rhys still cannot close his right eye fully and will need further operations.
His mum Keisha Pritchard, 32, took him back to hospital after he became unwell following the stitches, with doctors finding he had the serious bacterial infection.
What is necrotising fasciitis?
The bacteria releases toxins that damage nearby tissue.
Early flu-like symptoms can quickly develop into vomiting and swelling of affected areas, before it spreads through the body causing dizziness and confusion.
It can progress very quickly and lead to serious problems such as blood poisoning (sepsis) and organ failure.
His mum described it as "horrific", adding: "Rhys was petrified while I tried to stay calm and told him doctors will make it all better."
She said Rhys' temperature was "rocketing" and he was "in so much pain" as his blood was tested for infection.
He was placed in isolation with any visitor told they must wear a contamination suit.
"The doctors told us if the infection hadn't been stopped that day it would have been too late," she added.
"It was so overwhelming to hear that Rhys could have been left blind or killed by this bug."
In total, Rhys spent 11 days at Cardiff's University Hospital of Wales before returning to his home in Ely.