Objections to Portskewett waste treatment plans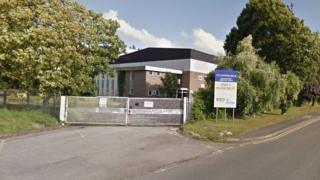 Residents and politicians have objected to plans to build chimney stacks and storage containers for a new waste treatment plant in Monmouthshire.
DPS Process Solutions Limited want to process 20,000 tonnes of non-hazardous motor car waste each year at a thermal treatment plant near Caldicot.
It proposes building two 16 metre (52ft) high stainless steel chimneys, but more than 150 people are against it.
They include the local MP and AM.
Residents have formed an action group opposing the plans to convert the empty former Tata Steel unit on Symondscliff Way, on the Severn Bridge Industrial Estate in Portskewett.
DPS said the unit would be a research and development centre and would carry out "waste stream trials".
It would be operational 24 hours a day processing old non-metal car parts.
Monmouth MP David Davies and AM Nick Ramsay both object to the proposals due to "environmental factors" and the impact on "the small village".
Monmouthshire council leader and local councillor Peter Fox said the implications could be "disastrous" for residents, while Portskewett Community Council is "vehemently" opposed to the plans.
They have been submitted to Monmouthshire council and planning officers are awaiting a detailed report from the specialist environmental health officer.
A DPS spokesman said: "It is our aim to support the Welsh Government with initiatives such as 'Towards Zero Waste One Wales: One Planet' and it would not be appropriate to comment on individual opinions."
The waste treatment facility will require a permit from Natural Resources Wales.