Ring stolen in Cardiff reunited with US owner 15 years on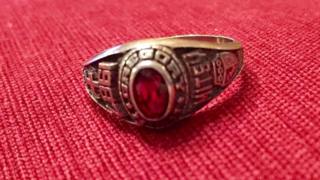 A former antiques dealer has reunited an American woman with her long-lost ring 15 years after it was stolen from her then-home in Cardiff.
Melissa Gellerman Belfer was living in the Welsh capital in 2002 when her flat was burgled and her "class ring" from high school graduation was taken.
Bernadette Chick bought the ring from a Cardiff jeweller and spent seven years tracing her via the ring's inscription.
A high school reunion page on Facebook eventually led her to Ms Belfer.
Ms Chick, who lives in Wenvoe, Vale of Glamorgan, said: "There was a little shop in Canton [in Cardiff] which was Thomas Jewellers - it's now an American sweet shop.
"I bought a job lot. There were mainly 30s/40s style rings, which I love. This one caught my eye because it was different and obviously we don't have class rings and when I got home and realised what it was things started clicking."
The inscription on the ring read "Mitsy" and showed it came from Gregory High School. But Ms Chick had no idea where in the world the school was. During online searches she even found a school of that name in India.
However, she knew the tradition of giving class rings upon graduation from high school is common in the US.
"We don't have these rings and I knew they are very personal - why would you get rid of it? I kept hitting a blank but it kept nagging at me. I'd put in the words so many times on Google that one day when I started typing it came up with 'Gregory High School Class of 87 reunion'."
Ms Chick got in touch with the page's creator, Joe Krizan, who initially thought the message was some kind of scam.
However, when he saw a picture of the ring with the inscription "Mitsy" he recognised it as a misspelling of his friend Melissa's nickname, Mitsi, and recalled that she had been annoyed about the mistake at the time it was made when they were students at Gregory High School in South Dakota.
He contacted Ms Belfer and was able to put the two women in touch.
"I described the ring to her. She got in touch with me and we established that it was hers," Ms Chick said.
The ring had been lost to Ms Belfer for 15 years and had been with Ms Chick for seven, but what its fate was in the intervening years remains a mystery.
Ms Belfer said: "It was a little bit of a surprise, I didn't expect to see it again.
"My friend Joe didn't know I had lived in Wales but I told him it had been stolen about 15 years ago when I was living in Cardiff."
She added: "He then told me to call him because the news he had was worth a phone call.
"Within days I was in touch with Bernadette and confirmed it was my ring. She wouldn't take any money, she just wanted to return it to me."