'Tornado' spotted 'brewing' over Pontypool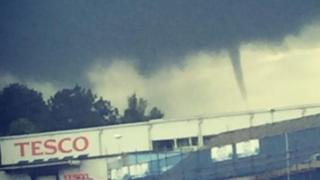 A funnel cloud, which turns into a tornado if it touches the ground, was spotted in Torfaen on Tuesday.
It was captured and posted on Instagram by Yellowkelstar with the caption: "There's a #tornado brewing over #Pontypool.... happy summer everyone!"
BBC weather presenter Sue Charles said unstable conditions made this more likely.
South Wales Fire and Rescue Service said there were no reports of damage.
A tornado is described as a violently rotating column of air.
Sue Charles said: "It certainly looks like a funnel cloud - a rotating column of wind extending from the base of a cloud.
"It can't be seen here if it touches ground. If a funnel cloud touches the ground it becomes a tornado."
The conditions in Torfaen on Tuesday followed a yellow "be aware" warning issued by the Met Office for rain in most parts of Wales.