Russell Sherwood death: Coroner orders fire service review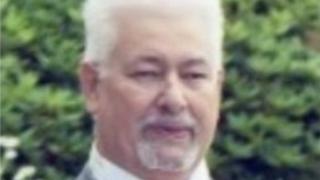 A coroner has ordered South Wales Fire and Rescue Service to review procedures after a man drowned in flood water.
Storm Angus flooded Bridgend's New Inn road in November, and after attending a rescue, the fire service did not leave any warning signs.
Russell Sherwood later drove into the flood water and his car got swept away. His body was found in the River Ogmore.
At his inquest in June, coroner Philip Spinney expressed concern that no warning was in place.
The fire service said the report's recommendations are "already being considered".
Speaking at the inquest, Mr Spinney said: "In my view it is significant that the road was left without warning", adding, "the flood continued to pose a danger to life".
Stephen Richards from South Wales fire service, said crews had left the scene after making two calls to the Highways Agency.
He added that it was "not fire service protocol to close the road".
In his report to the fire service, published on Wednesday, Mr Spinney said two actions needed to be taken, including reviewing procedures relating to incident management where there was an ongoing risk to life.
The other was to review emergency equipment carried by fire service units to enable warning signs to be deployed if there was an ongoing risk to life.
The fire service's chief fire officer has until 11 August to respond to the report.
Sally Chapman, deputy chief officer at South Wales Fire and Rescue Service, said the report's recommendations were already being considered in line with the new statutory duty of flood recovery, which the service adopted in April 2017.
She said they were also in the process of conducting a comprehensive review of their operating procedures, both in response to the report and as part of the service's regular assessments of all operational activity.
"We can assure that full and detailed consideration is being given to the recommendations as part of this ongoing review," she said.