Sully Island tide 'lives could be lost' warning from RNLI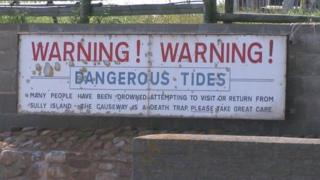 Lives could be lost unless people heed warnings about the dangers of getting cut off by the tide near a Vale of Glamorgan island, the RNLI has said.
Thirty people have been rescued near Sully Island so far this year.
That is despite a traffic lights warning system and signs indicating when it is unsafe to cross.
Penarth RNLI Operations Manager Jason Dunlop said other agencies, such as HM Coastguard and the National Coastwatch Institution, were also concerned.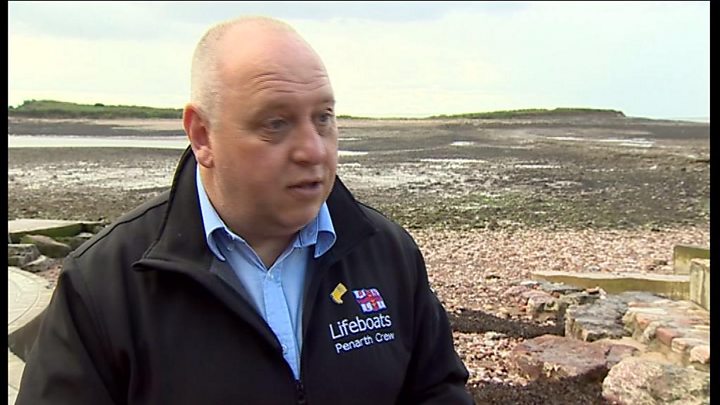 "We work on the basis, as do all of our partners, that this is a site at which people could lose their lives," he said.
"There is history at this site. There has been loss of life here in the past and if you look at the number of incidents we have here, then it's only logical - risk and occurrence - that we could have an incident here."
The RNLI installed the traffic lights system in June 2014 and signs were added last year, but a fresh warning was issued in June as people were continuing to get stuck.
RNLI callouts to Sully Island in 2017
Gordon Hadfield, who owns the beach at Swanbridge and a cafe, said he and his staff had saved six people from the water in the past four years.
Three weeks ago he led a family of eight to safety.
He said: "They got caught coming through. They took their shoes off, there was blood all over their feet.
"All the kids had their feet and heels cut, their arms where they tripped over on the rocks. If they fall over, you've got to go in for them."
Nicola Davies, from HM Coastguard, said people needed educating about the importance of checking tide times.
She said: "The sad fact is, alot of people come down here and do not know the tide is going to come around them. They don't know it's an island, so there's alot of education around that."
The number of emergency calls from Sully Island has contributed to the Penarth lifeboat station becoming one of the busiest in the country.
RNLI helmsman Ben Evans said he and his colleagues want people to enjoy the island, but advised them to call 999 for help if they found themselves marooned.
"The water floods over the causeway so fast, it's so dangerous walking through the water," he said.
"We'd much rather people wait on the island and we'll pick them up safely rather than trying to pass through the flooding causeway."