Prison officers dealing with Cardiff jail 'incident'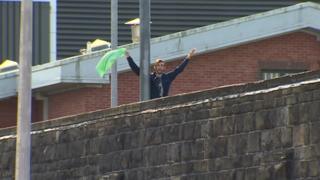 An "incident is ongoing" at Cardiff prison, the Ministry of Justice have confirmed.
Staff are dealing with an "internal incident" involving a male inmate overlooking the perimeter wall.
A prison service spokesman said: "A prisoner at HMP Cardiff has climbed an internal fence. Staff are working to ensure he comes down with no injuries."
A prison officer was standing on Adam Street monitoring the inmate at the jail in the Adamstown area of the city.
Four men were arrested in Cardiff prison in June after an explosive device "erupted".
Officers also had to deal with an "isolated incident" on Christmas Day 2016, a week after four prisoners barricaded themselves into a cell.