Fforest Fawr: Fears over removal of diseased larch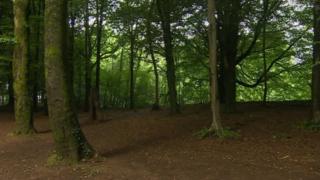 The owner of a business based on the edge of a forest has expressed fears over the impact of plans to fell 4,000 trees.
David Vater runs Forest Stove and Fires and Forest Cafe in Fforest Fawr, Tongwynlais, where Natural Resources Wales (NRW) plans to remove diseased larches.
He fears it might put people off visiting the area.
However, NRW said the number of larch being removed was relatively small.
Preparatory work will begin next month at the forest in the north of Cardiff, with trees infected with the Phytophthora ramorum fungus removed from September 2018 until 2021.
Mr Vater said: "I am very concerned about this as a lot of our customers walk through the woods, summer and winter. They use the protection of the trees to walk the dogs in the rain in the winter and summer and during the hot spells.
"I have spoken to some of my customers and explained what is going on and some were really upset.
"Some were in tears about it. It was quite distressing to see the reaction that we had from it."
Mr Vater said people had seen the impact of tree removal because of larch disease at other sites including Cwmcarn Forest and Machen mountain, both in Caerphilly county.
"The mountain has been devastated in Machen," he said.
He said, while NRW's assertion that the overall impact would not be significant was reassuring, he was concerned about the fact they were not planning to replant trees but leave native species already present to reseed and fill the gaps.
"I think if Natural Resources Wales can give us guarantees that there'll still be protection for walkers [with tree cover], everyone will be a lot happier about it."
'Naturally regenerate'
He also wants to know if there will be any impact on the village of Tongwynlais, where he has a second cafe, in terms of increased risk of flooding due to tree removal.
Gareth O'Shea, executive director of operations for south Wales for NRW, said there were 200,000 trees in the forest and the amount of larch being removed was relatively small.
"We realise it's a really important recreational asset for people in the area. It's in the centre of Wales' largest urban conurbation," he said.
"We intend to let the woodland naturally regenerate to its natural species and we're pretty confident we can do that, because it's a well-established understory here and the soil is really fertile for that to happen."