Rail employee 'almost pushed on tracks' at Newport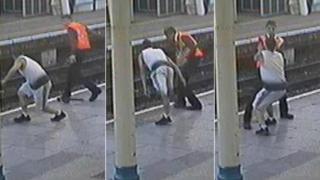 A man is being sought after a member of rail staff was almost pushed on to the tracks at Newport.
British Transport Police said the man was seen trying to hold the doors of a train open at about 20:40 BST on 13 August, so the train could not leave.
A member of staff asked him to stand clear and he moved to another platform.
But once the train departed, the man ran at the employee and pushed him, causing him to nearly fall onto the tracks, police said.
He was not injured and police asked for anyone with information to come forward, describing the incident as "aggressive and extremely dangerous".