Severn Bridge Half Marathon: M48 Chepstow to Aust to close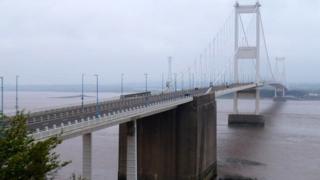 The M48 Severn Bridge will be closed on Sunday morning for the fourth Severn Bridge Half Marathon.
The crossing between Chepstow in Monmouthshire and Aust in South Gloucestershire will be closed between 07:30 BST and 11:30.
The 13.1 mile (21km) race, which is expected to attract about 2,500 competitors, will begin at 09:00.
It will start and finish on the Chepstow side of the bridge and drivers are advised to avoid the "busy" area.
The route will pass the villages of Elberton and Littleton-upon-Severn in South Gloucestershire before returning across the bridge.