Newport murder 'could not have been prevented'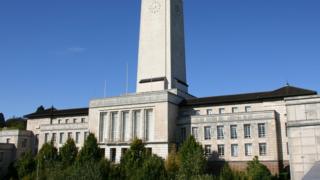 The murder of a "vulnerable" 21-year-old woman strangled and stabbed 27 times by her boyfriend in Newport could not have been predicted or prevented, a review has found.
A learning disability nurse had been told by a relative that the woman had "been almost strangled" by her boyfriend a month before her death in May 2014, the redacted report said.
That incident was logged but the woman did not want to pursue the matter.
Her boyfriend was jailed for 20 years.
One Newport, the city's public services board, published the independent domestic homicide review (DHR) - which are required by law following such a death - to see if lessons could be learned by public bodies and other organisations.
It said: "Adult A was a vulnerable adult and whilst she had some capacity, she clearly had difficulties recognising the impact of Adult B's behaviour.
"She was fully supported by her family who did their upmost to ensure she had a safe and fulfilled life.
"Even though it was not a one-off incident, nothing has come to light during this review to suggest the death of Adult A could have been predicted or prevented."
'Life cut short'
A number of recommendations have been made to Gwent Police, Newport council's adult services and Aneurin Bevan health board in relation to procedures regarding domestic abuse involving vulnerable people.
Supt Matthew Williams, the safe and cohesive lead for One Newport, said: "All of us involved in the One Newport partnership would like to express our sympathy for the family of this young woman whose life was cut short so brutally.
"Domestic homicide reviews are important because by highlighting where public bodies can improve their responses, we can try and prevent similar tragedies in future."