Newport man Kyle Enos admits dark web fentanyl drug deals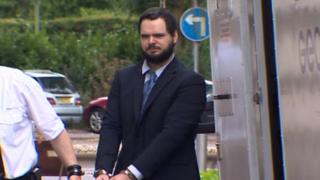 A man has admitted using the dark web to export and sell the high-strength painkiller fentanyl.
Kyle Enos, 25, of Newport, pleaded guilty to three charges relating to the supply of the synthetic opioids.
Cardiff Crown Court heard the drug is significantly more potent than heroin and there was an "international aspect" to the case.
Enos spoke only to confirm his name and to plead guilty. He will appear in court again in December.
According to America's Drug Enforcement Agency, fentanyl - which hit the headlines after it was linked to the death of US singer Prince - is considered to be 50 times more potent than heroin.
In a statement following the hearing, the National Crime Agency (NCA) said Enos used a number of identities to buy and supply "significant amounts" of the opioid in the UK, USA and Canada between May 2016 and May 2017.
It said it had identified 168 customers - 92 in the UK and 76 overseas, and police forces were looking into a number of drug-related deaths linked to the investigation.
After his arrest, Enos admitted purchasing fentanyl from China and selling it on the dark web - which is part of the internet but is only accessible using special software, allowing users to largely remain untraceable.
The NCA's Colin Williams said the agency was targeting people "responsible for playing Russian roulette with the lives of drug users" by mixing synthetic opioids with heroin.
"Kyle Enos is one of these individuals," he added.
What is fentanyl?
An extremely strong painkiller, prescribed for severe chronic pain, or breakthrough pain which does not respond to regular painkillers
An opioid painkiller, meaning it works by mimicking the body's natural painkillers, called endorphins, which block pain messages to the brain
The risk of harm is higher if the wrong dose or strength is used
Typical symptoms of a fentanyl overdose include slow and difficult breathing, nausea and vomiting, dizziness. It can also raise or lower blood pressure