Drinking ban powers considered near Bridgend hospital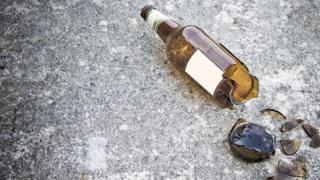 Police could be given powers to stop people drinking and behaving anti-socially close to a hospital in Bridgend.
The council is consulting on plans to extend a Public Protection Order (PPO) to the road outside the Princess of Wales Hospital.
The move would allow police to issue £100 on-the-spot fines to anyone drinking alcohol in the area.
It comes after a request from South Wales Police.
There are currently five zones in Bridgend County where alcohol is controlled in the streets, including parts of Porthcawl, Pencoed, Maesteg and Caerau.
Under current rules, officers have powers to confiscate alcohol. There also the potential of the person involved to be given a court fine of up to £500.
These will become PPOs in October, extending the maximum fine to £1,000.
Under Bridgend council's plans, the zone in Bridgend could be extended to include Coity Road, up to the road next to the entrance to the Princess of Wales Hospital.
The PPOs do not stop people drinking in their homes or at restaurants, bars or clubs but give police the power to confiscate alcohol from people drinking in public spaces.
The consultation runs until November.