Seamstresses' Maesteg market move holdout over rent fears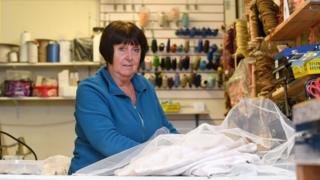 Two seamstresses have vowed to be the last traders in a market that is being closed to make way for a community hub.
Marcelle Humphreys, 64, and Elisabeth Langdon, 51, run Sew and Sew in Maesteg, Bridgend county, and face months of being the only traders left.
Traders began moving out in 2016 but the pair said future rent increases meant they wanted to stay in the indoor market for as long as possible.
Ms Humphreys said: "We'll be the only ones left by the end of next month."
Last year, the 135-year-old market in the basement of Maesteg Town Hall had 12 businesses supporting 20 jobs.
Bridgend council said five traders had either moved out or were in the process of leaving.
Ms Humphreys said: "If we moved to an outside unit then our £47 weekly rent would only be frozen for two years.
"After that the rent would double and we don't want to have to pass that extra charge onto our loyal customers. It's not fair on them."
The council plans to turn the building into a cultural hub, complete with a library, and has applied for £4m of European funding and said the building would close without urgent repairs.
A spokesman added: "Discussions with one trader are ongoing after they accepted a relocation offer then later rejected it."