George Thomas Hospice name change over 'negative connotation'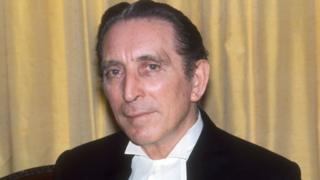 The George Thomas Hospice is changing its name partly to distance itself from "any negative connotation" associated with the former Lord Tonypandy.
It follows the conclusion of a police inquiry into sex abuse claims made against him.
The Cardiff end-of-life care hospice was set up in 1983 and named after Lord Tonypandy, who died in 1997, aged 88.
Its new title, City Hospice, is also aimed at gaining wider exposure for its fundraising efforts.
A statement read: "Although our existing supporters value the essential work the charity does, knowing that it has no connection other than by name with George Thomas, our new name will also distance the charity from any negative connotation that may now or in the future be associated with George Thomas' name."
South Wales Police had investigated historical allegations he sexually assaulted boys aged nine and 16 in the 1960s and inappropriately touched someone on a train in 1959.
The inquiry ended in March, with the force saying no further action would be taken.
George Thomas served as Cardiff MP from 1945 to 1983 and was well-known as the Commons speaker, Secretary of State for Wales and a Methodist preacher but hospice officials believe "only a minority" of people in the city today know of him.
While they praised his link for ensuring "the charity's early survival and prosperity", they believe a change can help it reach a wider audience for fundraising as demand on it increases.
The hospice - which helps people with cancer and other life-limiting conditions - received a record number of 742 new patient referrals in 2016/17, a 10% increase on the year before.
It expects the figure to keep rising, primarily because of more non-cancer end-of-life referrals - with 25 people with dementia helped in 2016/17.
Estimates suggest the number could reach 1,200 to 1,400 annually, with the statement adding: "This would require a major expansion of the current clinical service, and with that a need to raise much higher levels of income."
Its seven charity shops in Cardiff and the Vale of Glamorgan and the hospice in Whitchurch will have signs changed ahead of Friday's name change.
The statement added: "Twenty years after his death the present generation knows little of his achievements, or of his relevance to this charity.
"The hospice needs to appeal to that wider public where, increasingly, only a minority are familiar with George Thomas."