Blaenau Gwent crime-monitoring CCTV could be shut down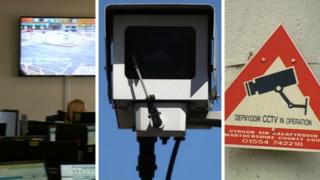 Ageing CCTV cameras used to monitor crime in Blaenau Gwent may be shut down as there is no budget to repair them, a report has warned.
In 2014, the council outsourced responsibility to Newport council to save £300,000 annually - they have since recorded 254 police incidents.
While the five-year deal covers monitoring the network and power supply, there is no maintenance budget.
There are issues with eight cameras and no money to address problems.
A Welsh Local Government Association spokesman said: "Councils take their community safety role seriously and work in close partnership with other relevant bodies including the police, health boards and fire and rescue services.
"However, unprecedented cuts to council budgets in recent years have forced councils to make some very difficult decisions in prioritising their diminishing resources."
Gwent Police and the area's police and crime commissioner said responsibility for CCTV lies with local authorities.
The importance of the town centre cameras is illustrated by 254 evidence bags being handed to police since 2014, for potential use in criminal cases.
There have been 44 from Abertillery, 27 from Blaina, 31 from Brynmawr, 73 from Ebbw Vale, 69 from Tredegar and 10 from the Ebbw Vale cableway area.
But providing CCTV by councils is voluntary, with the report stating regular investment and specialist resources are needed for them to function properly.
The Newport monitoring and BT connections contracts plus power comes to £172,000, as opposed to £456,000 from handling the provision in-house.
However, there is no money in the budget for maintenance following the transfer, with "limited investment" previously used to replace 13 faulty cameras.
The report warns there are now problems with eight others and it will be "difficult to address these".
It says the "camera network is ageing and runs on older analogue technology", adding it is "increasingly difficult" to source new cameras and parts.
A bid to upgrade the system is in the council's capital programme from 2017-18 to 2019-20, but cash has not been secured.
The report, to be discussed on Monday, outlines the options:
Continuing the Newport monitoring contract
Spending £159,000 on new cameras and wi-fi in seven areas
Ending the Newport monitoring contract to have a recording-only service
Ending CCTV provision altogether
While it recommends using capital programme money to create a "sustainable system", it warned ending the service could create "risks around community safety, crime prevention and detection".
The WLGA spokesman said councils had to "balance local budget pressures, community safety concerns and other competing service priorities" and make "difficult decisions at a local level".
After Ceredigion, Carmarthenshire and Pembrokeshire councils began cutting CCTV in 2014, Dyfed-Powys Police decided to switch all cameras off when a review suggested they did not reduce crime.
However, current Police and Crime Commissioner Dafydd Llywelyn is funding a £2m project to reinstall them, using a 7% hike in the police precept householders pay via council tax.
In Denbighshire, a CCTV system covering Rhyl, Prestatyn and Rhuddlan was described as "not sustainable" and 32 cameras are now monitored by an English council.
Gwent's Police and Crime Commissioner Jeff Cuthbert said: "The responsibility for CCTV across Gwent remains with each local authority and as such, the final decision around the funding and use of this resource sits with them."
A spokeswoman for Gwent Police said: "Local authorities lead on CCTV provision, as such it would be for them to provide comment."
A council spokesman said a direction would be discussed at the meeting.