Teacher Christopher Jenkins sent semi-naked pics to student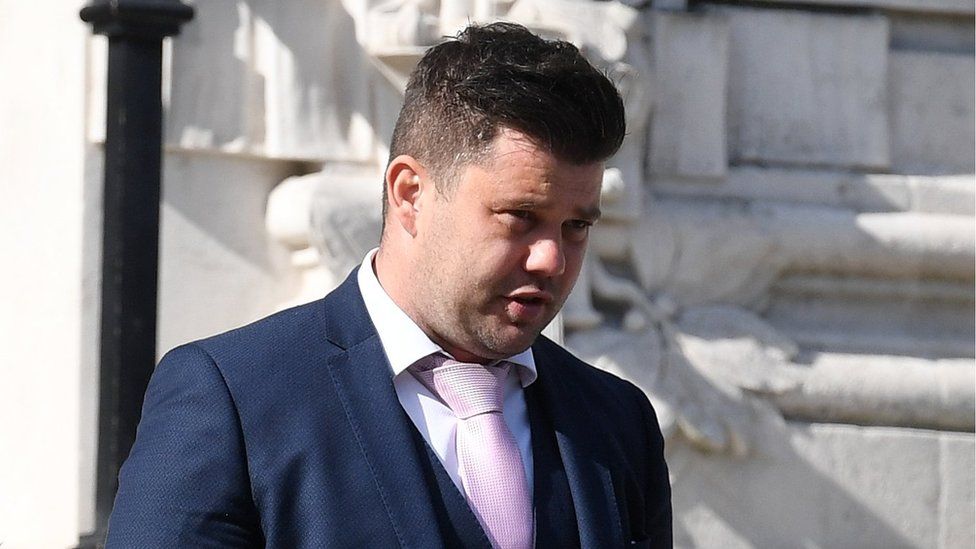 A secondary school teacher who exchanged semi-naked selfies with a 15-year-old pupil has been given a suspended prison sentence.
Christopher Jenkins, 33, of Bridgend, sent photographs of himself in just a bath towel and asked if she would cheat on her boyfriend.
Cardiff Crown Court heard the girl was "excited" by the attention and sent selfies wearing just her underwear.
Jenkins pleaded guilty to causing a child to engage in a sexual activity.
He was sentenced to 23 weeks suspended for two years.
The court heard Jenkins told the girl: "This shouldn't be happening - your mother will kill me."
He had begun exchanging late-night messages with the girl to discuss her schoolwork, but the conversations became sexual after he asked about her private life.
Prosecutor Peter Donnison said: "Jenkins asked her if she would cheat on her boyfriend and told her she was beautiful. There was discussion about meeting up outside school.
"Her classmates began to notice he was spending a lot of time with her."
They used the picture messaging app Snapchat to send photos.
Mr Donnison said: "It was over that site he sent pictures of his torso with a towel over his waist.
"Then he sent a message saying: 'Now send me one'."
The court heard the girl later told police she sent selfies of herself wearing just underwear including close-ups of her chest.
She said in a written statement: "I found it exciting but I was worried about my classmates finding out. I got scared when he asked to meet up because it felt weird.
"It felt awkward around him at school. I felt embarrassed that the whole school were talking about me." She added she had done worse than expected in exams following the case.
His colleagues at the comprehensive school in south Wales reported him to police after the girl shared some of his photos with friends.
Defending, Christopher Rees said there had been no physical contact between teacher and pupil but accepted Jenkins' career was finished.
Mr Rees said: "It was a catastrophic mistake by him. His career is finished, and his reputation has been destroyed in his community."
He said Jenkins was suspended when the allegation were made in January last year until he pleaded guilty last month.
Judge Eleri Rees told Jenkins his actions were a gross breach of trust. "Thankfully this went no further. But she has set out the real damage done to her."
He must sign the sex offenders register for seven years, and was given a sexual harm prevention order banning unsupervised contact with girls younger than 16.