Statue of notable woman set for Cardiff's Central Square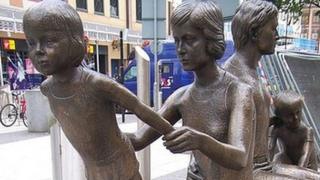 A statue of a prominent Welsh woman is to be erected as part of the multi-million pound redevelopment of Cardiff's Central Square.
Developer Rightacres said it would fund the artwork which will be sited opposite the new BBC headquarters.
The move follows complaints about the lack of public statues of women in Wales.
There is a statue of Queen Victoria in Wrexham and one of Boudicca in Cardiff City Hall.
There have been calls for the centenary of female suffrage to be marked by the erection of a memorial to the feminist campaigner Lady Rhondda.
In April, the prime minister announced suffragette Dame Millicent Fawcett would be the first woman to be honoured with a statue at London's Parliament Square.
In 2015, author and lecturer Dr Jasmine Donahaye called for a national debate on why women were not represented as widely as men in Wales.
She said while there were lots of generic women and angel statues in Welsh towns and cities, there were few of notable individuals.
Rightacres said the plan for the new statue in Central Square could be put out to public consultation, with the female historical figure to be depicted yet to be decided.