Cardiff Half Marathon: Study to reduce race carbon footprint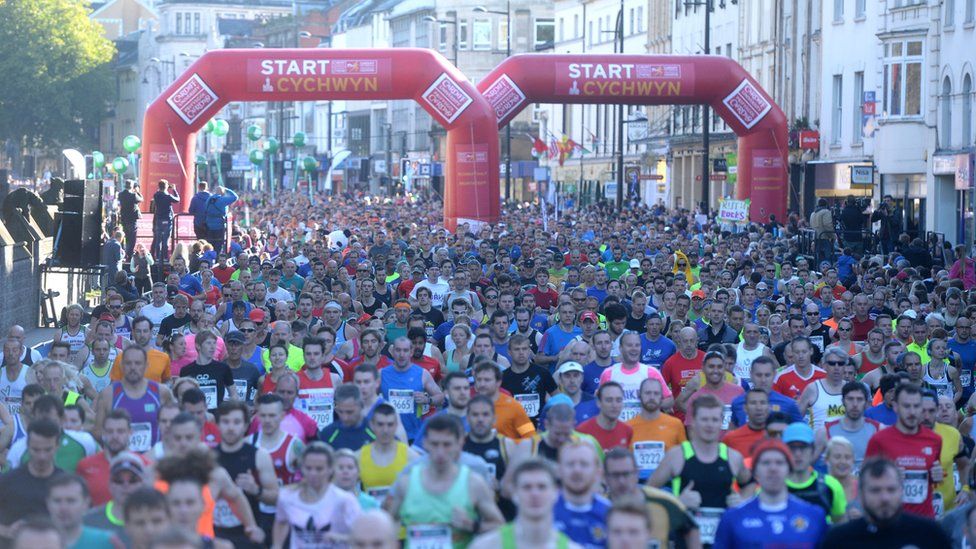 Cardiff Half Marathon organisers aim to reduce the event's carbon footprint, with help from university experts.
Run 4 Wales and professors from Cardiff University will conduct a study examining how runners and spectators travel to this year's event.
The findings will help to minimise the environmental impact of future races.
The event, which takes place on Sunday 1 October, is the second largest half marathon in the UK, attracting 25,000 runners.
Dr Andrea Collins, of the School of Geography and Planning, and Prof Max Munday, of Cardiff Business School, will lead the study.
It involves a group of Cardiff University students questioning spectators on race day about how they travelled to and how much money they spent in the city.
A post-race survey will be sent to runners.
Dr Collins said: "We have undertaken several studies which have examined the environmental and economic impact of major sport events in Wales."
She added that findings will help identify ways that runners and spectators can be encouraged to "travel in a more sustainable way".
Dr Collins and Prof Munday have also worked with UK Sport and other partners to develop its events IMPACTS tool which allows organisers to evaluate the economic, environmental and social impacts of sport and cultural events.
Dr Collins said that collaborating with Run 4 Wales on the Cardiff Half Marathon "demonstrates the impact" that their research is having.
Run 4 Wales' Annabelle Mason said they were "committed to making Wales' largest mass participation event as sustainable as possible".
She explained that last year they did "more than ever to encourage runners to go green" via car shares, cycling and walking.
Run 4 Wales will also continue to work with Recycle for Wales "to ensure all runners know what to recycle on the race day and at home".