Cardiff film posters used as carpet underlay sell for £60k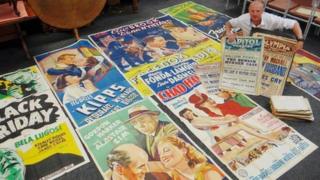 A collection of rare Hollywood film posters which had been used as carpet underlay for decades have been sold at auction for £60,000.
One print, from the John Wayne film Stagecoach, fetched £31,000 alone as part of a lot of 66 items.
Two builders made the discovery by chance while renovating the home of a late cinema owner in Penarth, Vale of Glamorgan, in 1985.
The posters were used in cinemas in Cardiff between 1936 and 1940.
The prints, which are up to 3m (10ft) tall, were turned into makeshift underlay after formerly being used in the New Theatre, Capitol, Empire and Olympia cinema theatres.
Another poster, depicting Sherlock Holmes, was sold for £13,000 as collectors from across the world bid on the items.
Others featured some of the biggest names of the time including Alfred Hitchcock, Sir Laurence Olivier, Vivien Leigh and Henry Fonda.
The had all been kept in pristine condition after being found by the builders.
Auctioneer Ben Rogers Jones of Rogers Jones & Co Auctioneers said: "We had no idea how much they would go for, it was very difficult to predict because we couldn't find any comparatives.
"We knew there was going to be a demand for them because these are 1930s never been seen posters.
"We took a guess that the Sherlock Holmes poster would go for between £600-£1,000 and the Stagecoach one for £1,000-£2,000.
"To see them go for how much they did was fantastic."