Cardiff refugee's £2.75m fortune to help Kosovo children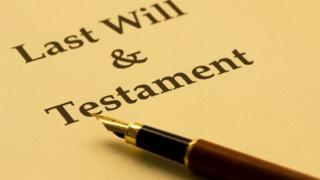 A £2.75m fortune built up by a war refugee who settled in Cardiff will go to help children in Kosovo, the High Court has ruled.
Veljko Aleksic died in 2014, aged 91, but the hand-written will he wrote two years earlier was littered with spelling mistakes and smudges.
Friends, charities, church authorities and a forensic document examiner were used to interpret what he meant.
Judge Paul Matthews said "bad English can still make a good will".
Mr Aleksic was born in Montenegro in 1923, and began working in a quarry when he arrived in Britain soon after World War Two.
He was one of seven children. But only one brother survived him and he died with no children of his own.
During his 70 years in the UK, he came to own houses in Cardiff, north London and Montenegro, as well as a portfolio of bonds and shares.
Although Mr Aleksic was a British citizen, he never obtained a good command of English.
His close friend Stanka Breben, also from Cardiff, was determined that his wishes be honoured.
After hearing the evidence, Judge Matthews decided that the majority of Mr Aleksic's fortune should go to the Serbian Orthodox Church in London.
He ruled that the money must be spent on "people in need, especially children, in Kosovo."