Measles outbreak in Newport and Torfaen declared over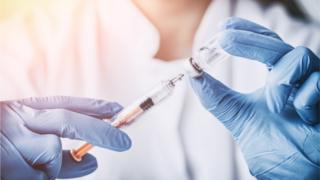 An outbreak of measles which saw 17 people catch the disease in south east Wales has been declared over.
The outbreak in Newport and Torfaen began in May and was linked to one in continental Europe, which is still ongoing.
There have been no new cases in either area since mid-August.
Public Health Wales said 1,238 children had been vaccinated over the period, but warned those who were not fully vaccinated could still be at risk.
Dr Rhianwen Stiff, consultant in communicable disease control for Public Health Wales, said: "With people travelling regularly between Wales and the continent, there remains the chance that people will come into contact with measles infection.
"People who have not received two doses of the MMR vaccine are most at risk from developing measles either at home or abroad.
"We would urge parents and young people to make arrangements to catch up on missed doses."