Man jailed over 2,000 tonnes of waste dumped in Llandow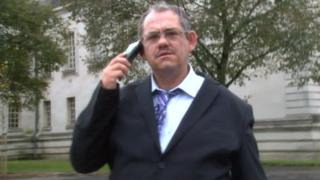 A man has been jailed after 2,000 tonnes of waste, including wood and old mattresses, were illegally dumped on land in the Vale of Glamorgan.
Michael Hendy, 49, from Barry, made £60,000 after allowing wood used in the construction industry to be disposed of in Llandow Industrial Estate.
He admitted illegally depositing waste and was jailed for 10 months.
Two other men also admitted waste charges at Cardiff Crown Court and were given suspended jail sentences.
Natural Resources Wales (NRW) said the waste was first discovered on the land near Cowbridge at the end of 2014 - with stockpiles of wood reaching 9m (30ft) at its highest point and baled mattresses filling a warehouse from floor to ceiling.
An investigation was launched and Hendy was found to be importing waste wood, earning £40 a tonne to dispose of it.
Meanwhile, Victor Keseru and Nathan Thomas, from Bridgend, were identified as being responsible for dumping baled mattresses at the site.
The pair operated a mattress recycling and disposal company called Envik Recycling Services, and were paid to dispose of or recycle them.
However, they took the metal out and sold it for a total of £37,000, baling and dumping the rest at Llandow. They paid £5,000 up front in cash.
Cardiff Crown Court heard Hendy did not own the lease of the land and was told he needed to obtain permits and do substantial infrastructure work to allow wood recycling on the land to continue.
However despite this, and several notices, he failed to stop the operation.
Tim Evans, NRW's prosecutor, said: "He was cynically happy to take £40 a tonne for waste wood and then walk away leaving 1,500 tonnes of chemically treated wood and 336 metric tonnes of bailed mattress material, leaving the clear up costs to the public purse.
"There is leachate in the deposits which could affect surface and ground water and it poses a serious risk of fire," he said.
"Wood is highly combustible and there have been enormous fires in premises such as this."
NRW added it would cost the public £52,000 to dispose of the mattress material alone.
All three defendants pleaded guilty at earlier hearings to charges relating to the illegal disposal of controlled waste.
Keseru and Thomas were each given six month prison sentence, suspended for two years, ordered to pay £26,000 plus £6,500 costs and told to do unpaid work.