South Africa murders: Man admits charges after Roger and Christine Solik killed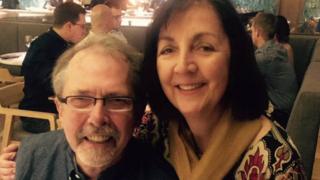 A man who killed a Welsh couple who emigrated to South Africa has told a court he and a companion kidnapped them then decided to "get rid" of them.
Roger and Christine Solik's hands and legs were tied and they had pillow cases over their heads when they were thrown off a bridge into a river.
Xolani Brian Ndlovu, 32, admitted murder and other charges at Pietermaritzburg High Court.
Thulani Moses Mthembu, 43, has pleaded not guilty. His trial continues.
The Soliks, who emigrated from Abercynon, in Rhondda Cynon Taff, in the 1980s, were found murdered after being attacked at their home in the KwaZulu-Natal area of South Africa - about 100 miles (160km) from Durban - on 17 February.
Mrs Solik, 57, was found dead in the river 45 miles from their home. She had drowned, but had also been stabbed and suffered multiple other injuries.
The body of her husband, 66, was discovered the next day in the same river. A post-mortem examination found he probably died of asphyxiation.
In a victim impact statement read to the court, their son Gregory - also writing on behalf of his siblings Alexander and Brendon - described the time since the murders as "disorientating, painful and beyond comprehension".
"What facts could ever help anyone understand the emotion of knowing your parents were fished from out of a river; one of them broken and caught on a branch, the other bloated and eaten by crabs?" the statement read.
"How do you explain what it is like to bury your mother on her birthday in front of her elderly and traumatised mother, my grandmother?"
It added: "They will be remembered, and not by the way they were taken but by the way they lived. For the rich life that they built from humble beginnings and for the family they made. The Soliks."
His sister, Jessica Carelse, said she can no longer admire the beauty of the South African landscape: "Every mountain I look upon all I can see are my parents' faces as they passed along a desolate dust road to their unfathomable end."
In a written plea read to the court by his lawyer, Ndlovu described how he and his companion lay in wait for the Soliks' lights to be switched off so they could break into their home.
Once inside, Ndlovu said he switched on the bedroom light and they demanded money and car keys from the couple.
He said he went to bring the car closer to the door and after loading a TV, a DVD player and a "few bottles of liquor" into the vehicle, he went back inside and saw a "substantial amount of blood on the floor".
"I found my co-accused had stabbed the female deceased as she was putting up a certain degree of resistance," he said.
"We tied their hands as well as their legs together, placed pillow cases over their heads and loaded them into the boot of their vehicle.
"I knew of a guy who wanted to buy a TV set so we drove to his house and sold the TV and DVD [player] for R1,000 which we split between us.
"We then decided to get rid of them… we drove to Impendle and threw [them] off the bridge of the Inzinga River into the river."
He said they later withdrew R2,000 of the Soliks' money from an ATM and shared it between them.
Acting Judge Anand Maharaj convicted Ndlovu of two counts of kidnapping, two of murder and one of robbery with aggravating circumstances. He was due to be sentenced on Tuesday.
Mthembu has pleaded not guilty to the same charges.