Grieving mother of woman 'hunted' in car calls for tougher sentences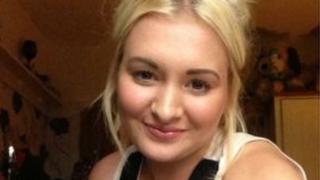 A man "hunted" his ex-girlfriend in her car like "a pack chasing its prey" before ramming her vehicle and causing the crash in which she died, the victim's mother has said.
Jackie Taylor's daughter Sophie, 22, died in Cardiff in August 2016.
Michael Wheeler, 23, was jailed for seven-and-a-half years in May.
Ms Taylor said plans to increase the maximum term for death by dangerous driving to life did not go far enough. She called for a minimum jail term.
She told BBC Radio Wales' Good Morning Wales programme the current maximum term of 14 years did not go far enough and a stiffer sentence would be a greater deterrent.
"I believe it should be a minimum tariff when you take somebody's life through dangerous driving," said Ms Taylor.
"I fight for justice for Sophie. For me, if there is a glimmer of hope that this doesn't happen to anyone else, then her death means something."
Melissa Pesticcio, 24, was also convicted of Sophie's death by dangerous driving and jailed for six-and-a-half years.
Ms Taylor added: "The judge [in Sophie's case] even remarked it was like a pack chasing its prey, and that's exactly what they did.
"Two people used two vehicles to hunt my daughter that night.
"She'd contacted the police to let them know she was being chased... as she turned the corner they were lying in wait for her.
"The way they chased my daughter that night, if anybody had been in their way they would have mowed them down too and they may not have had just my daughter's death on their hands."
Ms Taylor was speaking after Justice Minister Dominic Raab told a debate in Westminster Hall, the House of Commons' second chamber, that the UK government planned to increase the maximum sentence to life imprisonment for the most serious cases.
He said he hoped it would bring the family "some solace through a greater sense that justice is being done".
Mr Raab was responding to Ms Taylor's MP, Kevin Brennan of Cardiff West, who questioned why Wheeler had not been given a longer sentence.