Shoplifting reprimand blocked woman from police job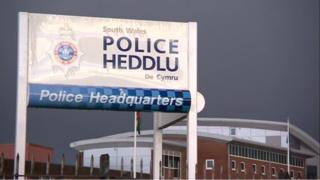 A woman's job application with South Wales Police was rejected because she had been reprimanded for shoplifting as a teen, London's High Court was told.
Judges criticised a police recruitment policy that led to the 24-year-old's rejection after making the application in 2015.
When she was 13, she and friends took a £20 sarong from Primark in 2007.
Relying on the reprimand for refusing to employ her violated her human rights, said Mr Justice Green.
Mr Justice Green said the graduate was "well qualified for a career in the police" and the "peremptory" rejection made no rational sense.
He said that, in light of the court's decision, new police recruitment vetting procedures had been approved by the home secretary and were due to be laid before Parliament imminently.
The woman, who cannot be identified, hoped a job as a service support officer would eventually lead to her achieving her dream of becoming a constable, the court heard.
'Inconsistent'
But her application failed because of the reprimand and her bid to have it deleted from her record was also later rejected.
The judge, sitting with Lord Justice Fulford, said: "Her career path and aspirations have been blocked. She has suffered clinical depression in consequence.
"Employing her would create no material risk of undermining the integrity of criminal investigations that she was involved with.
"Public confidence would not be undermined by her employment," he added.
Her rejection meant that virtually anyone with "a low-level historical reprimand" on their record would be disqualified from joining the police.
The judge said the woman's main concern was the fact that she was compelled to disclose the reprimand in the first place.
Expressing wider concerns about the case, the judge said: "Evidence before the court shows that the police have delayed substantially in bringing their practice and guidance into line with the law, and that the standard of vetting across the jurisdiction is frequently inconsistent and sub-optimal."