Llantwit Major dovecote damage 'completely senseless'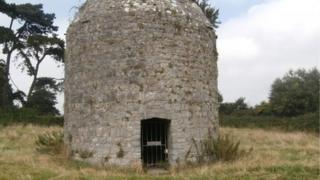 The scorching of a 700-year-old dovecote listed for its national importance has drawn condemnation from historians, politicians and local people.
Photographs posted on Facebook appear to show the Llantwit Major monument with black scorch marks up its walls.
One resident said she "felt sick" on seeing the damage. An assembly member said: "Some people really are idiots."
Cadw said it was "disappointed" the building had been damaged.
The Welsh Government body, which works to protect historical building, added: "Responsibility for the building lies with the owner."
Vale of Glamorgan MP Alun Cairns said the land was "frequently used as a meeting spot for groups of individuals who have been known to act in an antisocial manner".
Both he and Jane Hutt, AM for Vale of Glamorgan, said they had spoken to South Wales Police about the incident.
Town clerk Ruth Quinn said the issue would be discussed during a town council meeting on 26 October.
The Vale of Glamorgan council described the damage as "completely senseless".
South Wales Police has been asked to comment.
Sacha Stoyle, who lives in the town, said: "It makes me feel sick to think that fellow human beings have no respect for property that doesn't belong to them, especially not appreciating that it is an historic building."
She said litter, including smashed bottles, was frequently being thrown into the monument and local people had been cleaning it up.
Ian Hartnett, who lives near the dovecote, said he was "very disappointed" the building was being "abused and disrespected".
He added: "At least two fires have been lit against the side of the dovecote. Smashed pallets have been burnt so people are coming with wood prepared to light a fire."
The structure is one of Cadw's scheduled monuments, meaning it is of national importance and has statutory protection. It is also Grade II-listed.
In the 14th Century it housed doves and pigeons which were a source of food and feathers for pillows.
Nigel Williams, chairman of the town's history society, said he was "dismayed" and "angry" and his concerns about the "vulnerable" monument had been ignored.
He added: "It represents a vital part of the town's history and cannot be allowed to go the way of the impressive tithe barn which once stood alongside the dovecote and which was slowly dismantled after tithes were commuted in the middle of the 19th Century."
Neil McEvoy, AM for South Wales Central said: "Some people really are idiots. I hope whoever did this is found, prosecuted and made to apologise to the community."
Gareth Bennett, UKIP AM for South Wales Central, said: "Many local people will rightly be annoyed at this mindless vandalism, as the dovecote is an important link between the Llantwit Major of the past and the local community today."