Elsie Scully-Hicks had 'three separate bleeds on brain'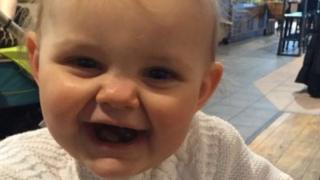 A baby who was allegedly killed by her adopted father had three separate bleeds on the brain, a court has heard.
Matthew Scully-Hicks, 31, denies killing 18-month old Elsie Scully-Hicks at their Cardiff home in May 2016.
She was admitted to hospital after becoming unresponsive, but died four days later after suffering extensive damage to her brain.
Cardiff Crown Court heard her injuries were "very typical" of babies and children who have been shaken.
On Wednesday, the trial was told Elsie suffered bleeds on both sides of her brain and around the cerebellum, at the back of the brain.
There were also two different retinal haemorrhages, or bleeding on the eyes.
The court heard one bleed was one week old while the deeper haemorrhage could have been from as much as six weeks previous.
Elsie also had a fractured skull and small fractures to three of her ribs and her femur.
Dr Neil Stoodley, a consultant neuroradiologist, told jurors her brain injuries were "unequivocally recent" and could be explained as "due to an episode of abusive head trauma that involved a shaking mechanism.
Robert O'Sullivan QC, for the defence, asked why there were no soft tissue injuries as a result of the shaking.
Dr Stoodley replied: "It is absolutely the case that in the vast majority of these cases, even looking for demonstrations of soft tissue injury, we don't see it."
Paul Lewis QC, for the prosecution, asked if Elsie would have been behaving normally after being injured.
Dr Stoodley said there was "likely to be a change in behaviour of the child at the time of the event".
Matthew Scully-Hicks, a part-time fitness instructor from Delabole, Cornwall, and his husband Craig Scully-Hicks, had adopted Elsie two weeks earlier.
He is also accused of describing her as a "psycho", a "diva" and a "devil in a babygrow".
The trial continues.