Gwent Police officers to help tackle Hurricane Irma looting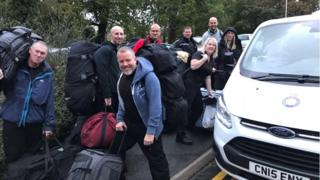 Eight officers from Gwent Police have flown to the hurricane-hit Caribbean to help local police tackle looting.
The Welsh officers - six men and two women - will work with police in the British Virgin Islands who are struggling to deal with crime in the wake of Hurricane Irma.
At least five people died when Irma swept through the islands last month.
Gwent Police Chief Constable Julian Williams said the deployment would be "challenging".
The team, made up of seven PCs and a sergeant, will join officers from 12 other UK police forces who are providing support to local officers.