Widow's despair as soldier's medals stolen in Bridgend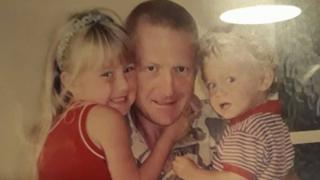 Medals awarded to a hero solider who died in Iraq have been stolen from his widow's home, along with her wedding and engagement rings.
Tracey Graves, 49, had taken her son to school when burglars kicked in her back door and ransacked her bedroom in Brackla, Bridgend, on Friday morning.
She was devastated after realising medals, including the Elizabeth Cross honouring her late husband, Cpl Dewi Pritchard, had gone.
Police appealed for their return.
Cpl Pritchard was killed with two other British servicemen when their unmarked civilian vehicle was attacked by gunmen in Basra, southern Iraq in 2003.
The 35-year-old Territorial Army soldier had been serving with the Royal Military Police and was awarded medals for his heroism.
'No compassion'
Mrs Graves' second husband, Andrew Graves, said she was devastated that they had been stolen "so brashly".
"It's bad enough to think people have been in your house and in your bedroom, but to think they have taken things that are so personal and irreplaceable is just awful," he said.
"They have been given to a man who gave everything for his country.
"For Tracey, it brings it all back to the front of the mind again - those dreadful days after he was killed. They have been through enough."
He said his wife's children with Cpl Pritchard - Kira, 20, and Ethan, who turns 16 on Sunday - were "very upset".
"Ethan used to wear the medals on special occasions, like Remembrance Day," added Mr Graves.
"Unfortunately we don't think we have any photographs of the medals - Tracey was too upset when they were awarded as Dewi had died.
"I think the people who have taken them don't have any compassion but we would like collectors to be aware that these medals are out there and they have been stolen."
'Distressing'
In total, four medals were taken, including Cpl Pritchard's Elizabeth Cross, given in honour of members of the armed forces killed in action.
Diamond rings, a diamond necklace and Mrs Graves' wedding and engagement rings from Cpl Pritchard were also taken during the burglary, which happened in The Willows, Brackla, sometime between 08:40 BST and 10:00.
South Wales Police said it was investigating.
DI Terry Hopkins said: "This has been very distressing for the victims and I would urge everybody who has information to contact us immediately.
"I'm also urging the person responsible to ensure the immediate return of the medals as they mean so much to the family."