Caerwent post office 'hub' saved from possible closure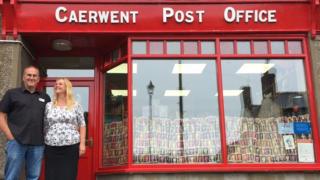 A "community lifeline" in a Monmouthshire village has been saved.
Caerwent Post Office was threatened with closure as the departing postmistress struggled to find someone to take over the only shop in the village.
The 85-year-old business had been on the market as Sarah Woodfield wanted to step down because of ill health.
But the "reinvigorated and popular village hub" has been taken over by local woman Angelique Gittings.
"The business made £100 in our first month back in 2013," said mother-of-three Mrs Woodfield, 47.
"But after adding retail and becoming the heart of the village, we now take about £100 a day.
"The shop has been my baby and I would have been devastated if it had to close.
"I would have been sad for the villagers, too, because to some, we are the only people they see all day. It is a community hub.
"I would have felt so guilty if we had to close. So I'm delighted it has been saved."
Mother-of-two Mrs Gittings saw the opportunity after seeing the shop was threatened with closure on the BBC website in July.
The 49-year-old was to be made redundant from her job of 10 years as a science technician at nearby Caldicot comprehensive school and "fancied this new challenge".
"Sarah has created a lovely community shop," said Mrs Gittings.
"It doesn't just offer retail and a postal service but gets involved with village events like Christmas lunches and local shows.
"It brings a village, which we love, together. I can't wait to be a part of that."
Mrs Woodfield was diagnosed with fibromylagia - a long-term condition that causes pain all over the body and extreme tiredness - and has had to sell because she struggled to run the branch full time.
Her last day will be on Saturday, November 4 after a 10-month search to find new tenants and admits "leaving will be emotional".
"I will miss the customers, my friends, terribly but my priority must be to get well again," said Mrs Woodfield.
"I take great heart though knowing that Angelique is taking over this business for the right reasons - to be at the heart of this lovely community."