Elsie Scully-Hicks: Murder accused disputes medical reports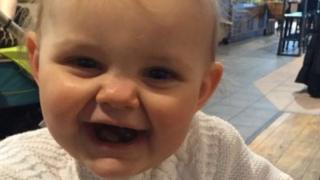 A man accused of murdering his adopted 18-month-old daughter told police he could not accept medical reports which said she suffered a "shaking-type injury".
Matthew Scully-Hicks, 31, of Delabole, Cornwall, denies inflicting catastrophic injuries on Elsie Scully-Hicks at their Cardiff home.
She died in hospital on 29 May 2016.
Cardiff Crown Court heard when interviewed by police following his arrest he said he "wanted answers".
The trial previously heard four days before Elsie's death she was rushed to hospital in an unresponsive state after a 999 call was made by the defendant saying he had found her unresponsive on the living room floor.
A CT scan showed she had bleeding on the brain and post-mortem examinations revealed she had also suffered broken ribs, a fractured left femur and a fractured skull.
There was also haemorrhaging within both of Elsie's retinas - associated with inflicted trauma or injury.
Elsie's injuries were "very typical" of babies who have been shaken, the court has previously been told.
A transcript of Mr Scully-Hicks' police interview carried out on 21 December 2016 was read to the court on Monday.
In it he said: "I want answers as much as anybody but I cannot accept that the only answer people are giving me is that I have caused these injuries.
"I am not satisfied the medical reports explored everything, they explored one option."
The trial continues.