Cardiff University rugby team banned from students' union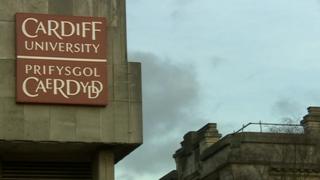 Cardiff University rugby team has been banned from attending events at its students' union after poor behaviour.
The students' union said that "such behaviour will not be tolerated" and did not meet "the standard expected".
BBC Wales understands the rugby team's antics resulted in two students being injured on nights out.
As a result, the rugby team has been banned from students' union events for four weeks, until 22 November.
The club president of the rugby club said: "The majority of our members bring talent on the field and build great friendships off the field, but to those who believe it gives them the right or sets an expectation to conduct themselves in an inappropriate manner, we say 'You are not welcome'."
The rugby team is not the only team at the university that has received a ban on students' union events this semester.
On 11 October the university football team received a ban on nights out after they were caught jumping the queue and being rowdy.
This is the second consecutive year the rugby team has been banned from the students' union. In November 2016 the team were banned after members of the public complained to the university about the players' lad culture behaviour.