Curb Your Enthusiasm uses Cardiff as Los Angeles' double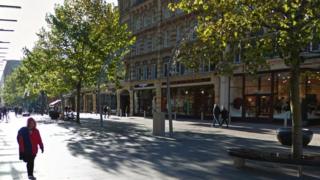 Viewers of Curb Your Enthusiasm may have been left confused to see Cardiff doubling as Los Angeles.
The Hayes was used as a backdrop in the hit HBO show, when star Larry David is seen walking with his therapist in a recent episode.
With the Welsh weather vastly different to California, producer Jeff Schaffer admitted the choice was like "using a Los Angeles stock shot for Antarctica".
But he said the city "looked beautiful".
The scene involved The Hayes doubling as west Los Angeles and was featured after Mr David left a furniture store with his therapist, played by Breaking Bad's Bryan Cranston.
Speaking to BBC Radio Wales' Good Evening Wales programme, Mr Schaffer joked: "Sometimes a scene needs a special stock shot.
"They showed us the Los Angeles stock shot and we said 'no', they showed us London and we said 'no', they showed us the Edinburgh stock shot and we said 'no'.
"And finally, we said 'bring us the Cardiff stock shot' and then you know only the Cardiff stock shot can start a scene this special."
The series is filmed around Los Angeles and after shooting in a furniture shop, the crew had to quickly move on to another location.
However, their lorries were all parked outside the shop, making it difficult to get a clear view of the street.
"It was also a dismal stretch of west Los Angeles, not very cinematic and in editing we needed something that looked like sunny Los Angeles," he added.
"It also needed to be somewhere that looked like it may have a furniture shop on it."
It is not the first time the capital has doubled as other cities, with it also used as London for the BBC Wales-produced drama Sherlock.