Rock fall worries over disused Cilfynydd quarry homes plan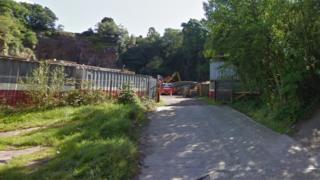 Plans to build homes in a disused quarry in Rhondda Cynon Taff look set to be refused over fears rocks could fall on the houses.
The proposals would see nine houses built in Bodwenarth Quarry in Cilfynydd, which has not been in use since the post-war period.
But a report before Rhondda Cynon Taf council says the plans should be refused due to safety concerns.
The council is set to consider the plans at a meeting on Thursday.
The Cosslett Family Discretionary Trust, who submitted the plans for nine houses at the site in Cilfynydd, says there is no evidence of instability at the quarry.
But in a report to the council's planning and development committee, planners dispute this saying no survey has been undertaken to confirm the stability of the rock face or whether a buffer needs to be built to protect residents.
"There is concern that any impacts in respect of the above could be exacerbated by the removal or mismanagement of vegetation, and no information has been supplied to show how the rock faces will be managed in the future if necessary to prevent this and ensure impacts from any rock falls are minimised," it reads.
It adds: "It is not considered that the application demonstrates that a residential scheme can be developed that does not unacceptably impact on public safety, particularly the safety of future residents".