National Museum Wales exhibition curated by homeless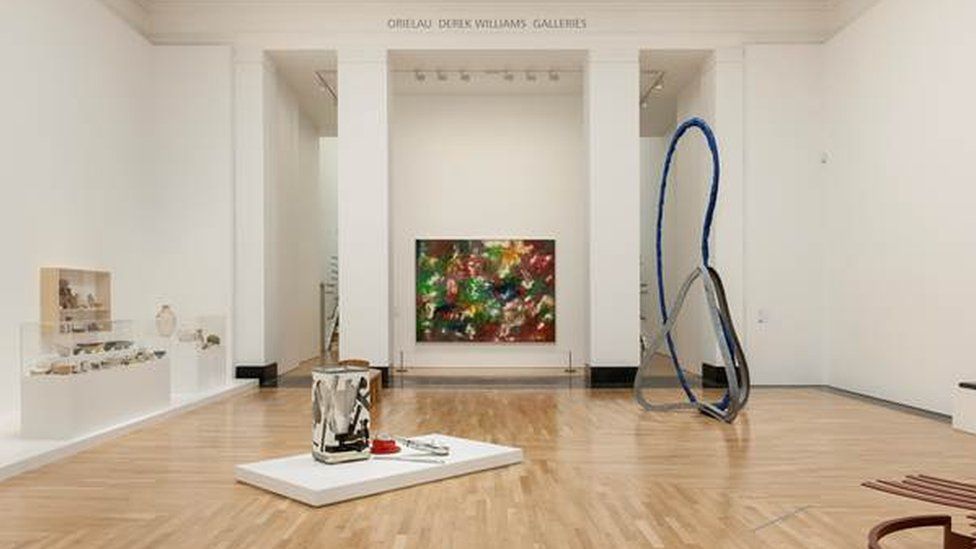 A new art exhibition curated by people who have experienced homelessness has opened at National Museum Cardiff.
Who Decides? is a free contemporary art exhibition featuring paintings, sculptures, films, prints and drawings.
The Wallich, a charity that supports homeless people in Wales, said the exhibition gave its users a chance to experience new opportunities.
The art was selected from a collection the museum and the Derek Williams Trust have acquired over 10 years.
Ian Harris, one of the Wallich curators, said: "I have taken great pride in my contribution to this exhibition and cannot wait until it is up and running."
Featured contemporary artists include Anthony Caro, Olga Chernysheva, Richard Deacon, Laura Ford, Richard Long, Paula Rego, Clare Woods and Bedwyr Williams.
Michael Pugh, another of The Wallich curators, said: "I wouldn't have come in to the museum before but now I'm here and I've loved it all.
"I'm not afraid to come here by myself, I'm not daunted anymore''
Sian David, head of participation and progression at The Wallich, said: "The narrative 'art is for everyone' sits perfectly with The Wallich. We go beyond getting people off the streets. We try to give our clients rich experiences and create exciting and innovative opportunities that are out of the ordinary.
"Many of the museum project's participants have experienced hardship but they're on new paths to improving their lives."
National Museum Wales' Nick Thornton, who is head of fine and contemporary art, said: "It's been a fascinating journey for all of us and underlines the huge benefits that can be had from creating opportunities for all parts of our community to contribute to the work of cultural organisations."
The exhibition will also feature a series of lunchtime talks explaining how it has been curated.