Elsie Scully-Hicks: Dad jailed for life for murder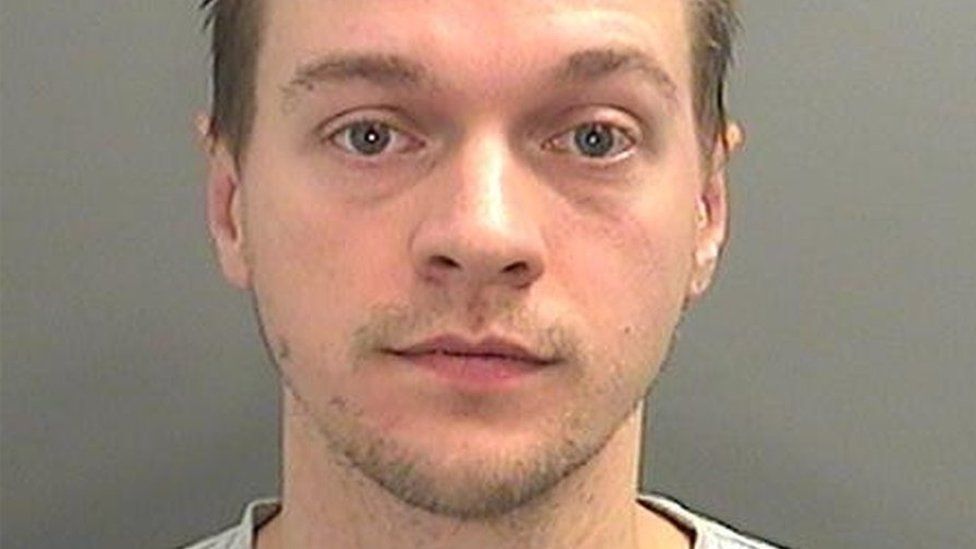 A man who murdered his 18-month-old daughter just two weeks after formally adopting her has been handed a life sentence.
Matthew Scully-Hicks, 31, of Delabole, Cornwall, was told he must serve at least 18 years in jail before being considered for release.
The killer inflicted a catalogue of injuries on Elsie at their Cardiff home in the eight months he had care of her.
Elsie's birth family said they had hoped one day to be reunited with her.
In a victim impact statement, they said they were "numb with pain" and that her birth grandmother had hoped to become her legal guardian before she was put up for adoption.
Baby Elsie died four days after being violently shaken in May 2016.
A four-week trial heard Elsie's catastrophic injuries included a fractured skull, bruises and a broken leg.
Sentencing him, Judge Nicola Davies described the murder as a gross abuse of trust.
She said there had been a failure to identify an earlier injury by medical staff in November 2015, which meant child protection measures were not triggered.
"Tragically, it was an opportunity missed," said the judge.
A child practice review is now expected to take place which will investigate the role of agencies in the case and look at whether lessons can be learned to prevent future tragedies.
Judge Davies told Scully-Hicks that his actions were aggravated by his daughter's vulnerability, age and the position of trust.
"You had, and were aware that you had, a predisposition to injure your adoptive daughter," she said.
"You took no steps to prevent a recurrence of the earlier incidents when Elsie suffered injuries as a result of your actions.
"No remorse has been shown.
Judge Davies, when sentencing Scully-Hicks, took into account a victim impact statement - which was not read in court - provided by Elsie's birth family.
In the statement, which can now be reported, they said they were "numb with pain".
Elsie was named Shayla O'Brien by her birth family when she was born in November 2014.
Speaking on behalf of the family, Elsie's birth grandmother Sian O'Brien said: "I accept that at the time of giving birth my daughter was living a chaotic lifestyle and was not in a position to care for Shayla and she was removed from the hospital five days after birth by social services.
"As a family, we continued to have contact with Shayla whilst she was in the care of the foster family."
Ms O'Brien said all of Elsie's family were "extremely attached to her and loved her very much".
She said: "In January 2015, I started proceedings in the family court to become the legal guardian for Shayla.
"I wanted to bring her up in a happy, healthy and warm family environment, that was all taken away from me when social services and the family court decided I would not be able to cope."
A decision was made that Elsie, who was renamed by her future adoptive parents, would be put up for adoption in May 2015.
Ms O'Brien said the family had been devastated but hoped that one day the little girl would be reunited with them.
However they were visited by social services in January 2017 and were told Elsie had died in May the previous year.
"In itself this was devastating news but to then be informed that one of the parents who had adopted her had been charged with murder and was allegedly responsible for her death was completely incomprehensible," Ms O'Brien added.
"A person who had been deemed by the authorities to be a fit and proper person to bring up my granddaughter was responsible for her death, and they took her from me telling me I would be unable to cope."
She added: "We are numb with pain and hurt deep in the knowledge that Shayla was loved unconditionally by us all as a family and knowing that had she not been taken away from us, she would still be alive today."
During his trial, Scully-Hicks claimed he never harmed Elsie and said she must have suffered her fatal injuries after he changed her for bed at home on May 25 last year.
She died at Cardiff's University Hospital of Wales on 29 May 2016 after doctors determined she could not be saved and her ventilator was switched off.
A pathologist said her injuries were "very typical" of a shaken baby.
A CT scan showed she had bleeding on the brain and a post-mortem examination revealed she had also suffered broken ribs, a fractured left femur and a fractured skull.