Celebrity Big Brother star Jeremy McConnell is jailed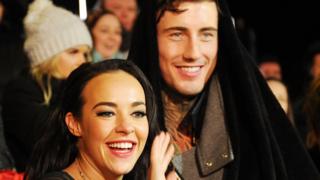 Reality TV personality Jeremy McConnell has been jailed for 18 weeks for missing community service to get a hair and beard transplant.
The Celebrity Big Brother star was given a suspended sentence after being convicted of assaulting his partner.
McConnell, 27, had been staying with a friend in south Wales but Cardiff Magistrates heard he missed eight work appointments in the 200-hour order.
The court activated the sentence for failing to comply with his punishment.
Dublin-born model McConnell attacked former Hollyoaks actress Stephanie Davis at her home in Rainhill, Merseyside, while she was holding their baby son, Liverpool Magistrates' Court heard.
The pair met while starring on Celebrity Big Brother together, but rowed during the trial in August and proceedings were stopped at one point.
Miss Davis said of the incident in March she thought that "psychotic" McConnell was "going to kill" her after taking cocaine.
After being found guilty and having his sentence suspended, McConnell was carrying out the community service in south Wales as he stayed with the family of a friend.
Probation Service officers recommended he be given extra hours of unpaid work, however this was overruled by district judge Wendy Lloyd.
Appearing via video link from Liverpool, she described the "vicious alcohol-fuelled attack" that left Miss Davis with injuries and damaged property.
She said: "Your enthusiasm for co-operation has been short-lived and there's nothing to show in the future things will change."
McConnell was given some credit for completing part of the work and was sentenced to 18 instead of 20 weeks.
Before arriving at court, McConnell posted on his Snapchat account: "If I don't see yas have a good Christmas."