Teen terror plot: Radicalisation in Wales 'not solved'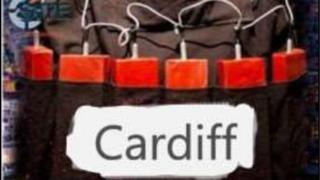 Radicalisation in Wales has not been solved and its largest police force is not complacent in the fight against terror, a senior officer has said.
It comes after a 17-year-old boy from Rhondda Cynon Taff was found guilty of plotting a terror attack in Cardiff.
The boy, who cannot be named, was arrested on the day of a Justin Bieber concert in the Principality Stadium.
South Wales Police said it needed people to come forward to help keep Wales safe in future.
The force also said all people of all backgrounds were at risk of radicalisation.
Assistant Chief Constable Jon Drake said people should not "stereotype that terrorists come from a particular background".
He told BBC Wales: "This case related to the internet. Most people have internet access.
"There is no particular person who is any more or less at risk. Terrorists come from all different backgrounds."
He added: "The cases are preparing aspects of terrorism, all the cases that have been dealt with in Wales.
"What I would say is we have no complacency that this issue is solved. We need the help of all the community."
Jurors at the teenager's trial at Birmingham Crown Court found him guilty of five terror-related charges.
The trial heard he was found with a "martyrdom letter" when arrested, which revealed details of his planned attack.
Jurors heard the A-level student, who is white and British, had set up an Instagram account encouraging jihad and supporting al-Qaeda.
Police found the password for the account was "truck attack".