Rhondda tunnel checked ahead of detailed examination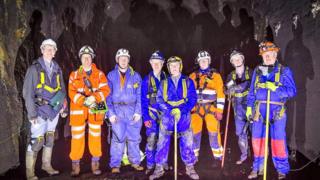 An inspection of the inside of the disused Rhondda railway tunnel has taken place in preparation for a more detailed examination early next year.
The Rhondda Tunnel Society, which wants to reopen it for cyclists and walkers, was awarded a £90,000 grant in September for inspections and surveys.
Engineers and representatives from Highways England, which owns the tunnel, were among those to go inside.
The air vent was measured so a replacement cap can be designed.
The tunnel, which is 1.8 miles (3km) long, runs between Blaencwm and Blaengwynfi. It was used by trains taking coal from the Rhondda mines to the ports of Swansea Bay, but it was closed in 1968 and the entrances sealed.
While Highways England is responsible for its safety, it is not allowed to re-open the tunnel.
But it is willing to transfer ownership to the Welsh Government or local authorities, Neath Port Talbot and Rhondda Cynon Taf.
The Welsh Government said previously it was "important we first consider the legal, financial, safety and environmental liabilities associated with such a move".
Society chairman Steve Mackey said: "The project is now moving into a new phase with all concerned very excited indeed.
"As we move into the new year, we hope that all our aspirations will be realised and the report will come back with a clean bill of health for the Rhondda Tunnel, which in turn will persuade the Welsh Government to take ownership from Highways England, which will allow the society to apply for serious grants."