Reg Buttress: Funeral for UK's oldest shop worker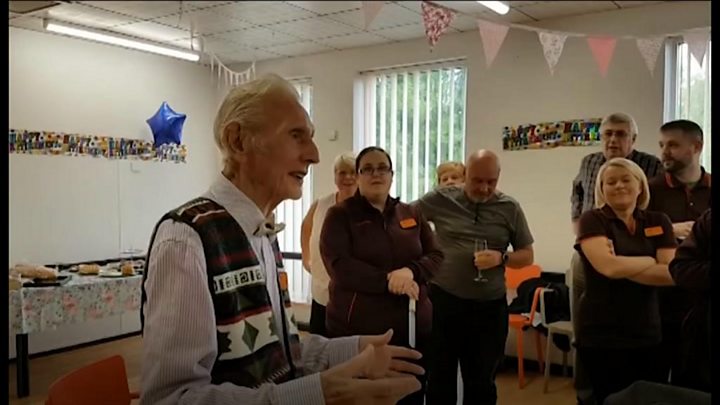 About 100 people turned out for the funeral of a 94-year-old great-grandfather, thought to be one of Britain's oldest shop workers.
Reg Buttress, who worked at Sainsbury's in Cwmbran, Torfaen, between 1981 and September, died on 20 November, two months after retiring.
The former coal miner and steam engine driver first retired aged 65 but asked to return to work because he was bored.
His grandsons remembered a "loving and devoted family man".
Family, friends, former Sainsbury's colleagues and the mayor of Torfaen were among the mourners at the Salvation Army Mission Hall in Old Cwmbran ahead of a committal at Gwent Crematorium.
The service included two hymns synonymous with Welsh rugby - Calon Lan and Guide Me, O Thou Great Jehovah - emphasising the one-time rugby referee's love for the sport.
Grandsons Aneurin, Talfryn and Tomos paid tribute to the man they called Reg, who was married to their grandmother Gwen for 65 years before she died.
They said he "took an interest in everyone" and "what made his family happy, made him happy".
Mr Buttress had done a number of jobs at Sainsbury's, including collecting trolleys, stacking shelves, pricing items and greeting customers.
The eldest of three children, born and raised in Pontypool, Mr Buttress started his working life aged 13 at Hafodyrynys colliery, Caerphilly county.
When he got made redundant, the nearby unemployment office told him there were no local jobs so he took a factory job in Birmingham, earning 14 shillings a week.
"He used to ride his bike from his home in Pontypool to work in Birmingham, as you do," said Major Stuart Ashman, who officiated the service.
Mr Buttress once recalled: "It took me two days and I stopped to sleep in a hedge."
He returned to south Wales during World War Two when his accommodation was bombed.
He found work as a fireman and steam engine driver for Great Western Railway and later took a job at a nylon factory before joining Sainsbury's.
When Mr Buttress retired, it is thought he had been among the oldest workers in the county.
"He became a media sensation and he loved it," joked Major Ashman.
"But he inspires people because he is an ordinary man with an extraordinary story."