First female CEO for Caerphilly council after pay scandal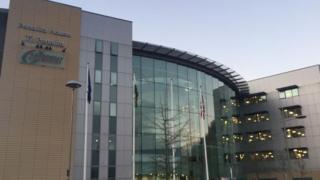 Caerphilly council has appointed its first female top boss in the wake of a pay-rise scandal.
Christina Harrhy will become the authority's new interim chief executive when she takes over in the new year.
It comes after two senior officers were given pay-offs totalling almost £300,000 after being suspended following a pay-increase investigation.
She replaces outgoing CEO Chris Burns who will step down at the end of 2017.
Council leader Dave Poole said Ms Harrhy would build on the "positive legacy" left by Mr Burns.
Ms Harrhy, current corporate director of communities, joins Torfaen's Alison Ward and Blaenau Gwent's Michelle Morris, as the only female top bosses of Wales' 22 local authorities.
The council's deputy chief executive Nigel Barnett and head of legal services Daniel Perkins were suspended in 2013 after a Wales Audit Office report on salary increases.
Criminal charges were dropped against them in 2015, but in October councillors decided that their employment would end immediately.
Former chief executive Anthony O'Sullivan remains on "special leave".
Before the settlements were agreed, the overall cost to Caerphilly council was about £3m, with more than £2m paid in salaries to the three men over the period and £500,000 in legal costs for the council.