Cardiff woman dies on 'trip of lifetime' to Australia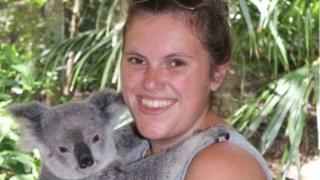 A 23-year-old woman from Cardiff has died while on a "dream trip" to Australia.
Chantelle Madonia was spending a year travelling there after completing a master's degree in global governance at the University of South Wales.
She died in her sleep from a heart condition, her family said.
Her mother, Lisa Madonia, said: "I am heartbroken, but it comforts me to know that Chantelle died living her dream."
Mrs Madonia, of Llanishen, Cardiff, said her daughter had been five months into a year-long trip to Australia and had been working as a waitress in Sydney to pay for her travels.
"She was loving life there," she said. "She worked hard so she could take sight-seeing trips and adventures around the country.
"She'd been enjoying the wildlife trips especially.
"The trip had been her dream for a long time and was her reward to herself after completing her master's degree.
"She had hoped to find a job in cyber security when she returned home.
"Chantelle was an amazing girl and a fantastic daughter.
"I can't remember a time when she wasn't smiling.
"She wanted to travel the world and she did. She'd already been to Thailand, Nepal and America.
"She loved meeting new people. She said the people she met in Australia were like a family to her."
Mrs Madonia said her daughter died in her sleep on 5 December as a result of an atrial septal defect, also known as hole in the heart.
She said signs of a heart problems had first been flagged up by doctors in 2012, when a hospital scan revealed she had a heart murmur.
Her body is expected to be flown back to the UK at the end of next week.
So far an appeal to raise money for her funeral has raised £8,000. Any surplus money will be donated to a heart charity in her memory.