New Velindre Cancer Centre approved despite concerns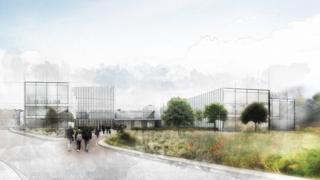 Major plans for a new cancer centre in Cardiff have been approved despite fears over wildlife.
The new Velindre centre in Whitchurch would provide specialist treatment and facilities for learning, research and development.
But there has been opposition to the plans as the new facility would be built on a nature reserve.
Cardiff council approved outline planning permission at a meeting on Wednesday.
Steve Ham, chief executive of Velindre NHS Trust, said the decision was a "significant milestone" for patients across south Wales.
A report to the council said the current Velindre Cancer Centre, built in 1956, was at "tipping point" with the aging building struggling to deal with increased demand and changes in technology.
The old building is failing to meet government requirements and environmental targets and the reputation of the hospital is "at risk", it added.
But a large number of residents objected to the new facility, and said while they were in favour of Velindre's work, they were concerned about the impact on an area know locally as The Meadows.
Concerns have been raised over the loss of green space, used by many for walking, the impact on wildlife in the reserve and on the surrounding area of Special Scientific Interest.
There were also fears an increase in traffic in an already congested area could lead to collisions, as the site is near Coryton Primary School.
Welcoming the council's decision, the cancer trust's head added: "As we move in to this next phase, we're looking forward to continuing to work with our patients and our local community to ensure the new Velindre Cancer Centre and its location can benefit everyone."